HOTSPOT

You have a Hyper-V host named Server1 that runs Windows Server 2016. Server1 has two network adaptors named NK1 and NIC2. Server2 has two virtual switches named vSwitch1 and vSwitch2. N1C1 connects to vSwitch1. NIC2 connects to vSwitch2

Server1 hosts a virtual machine named VM1. VM1 has two network adapters named vmNIC1 and vmNIC1. VmNIC1 connects to vSwitch1. VmNIC2 connects to vSwitch2.

You need to create a NIC team on VM1.

What should you run on VM1? To answer, select the appropriate options in the answer area.

NOTE: Each correct selection is worth one point.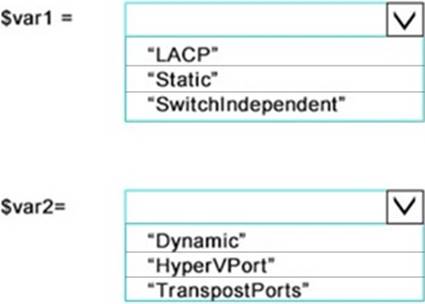 Answer: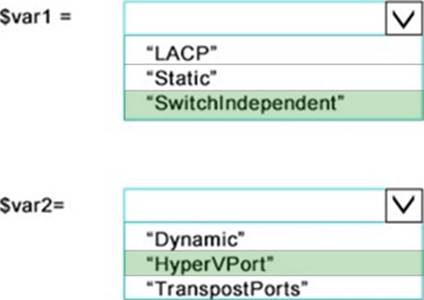 Explanation:

Name NICTEAM1 TeamMembers vmNIC1, vmNIC2 CTeamingMode $var1 CLoadBalancingAlgorithm $var2