Scenario:

You are a network administrator for a company named Contoso,Ltd.

The network is configured as shown in the exhibit.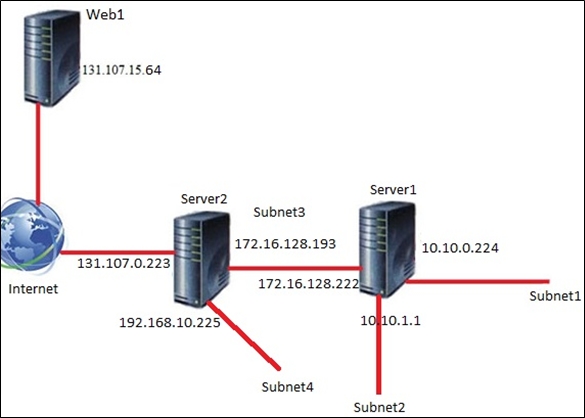 You install the Remote Access server role on Server2.

Server2 has the following configured.

*Network address translation (NAT)

*The DHCP Server server role

The Security Policy of Contoso states that only TCP ports 80 and 443 are allowed from the internet to server2

You identify the following requirements:

* Add 28 devices to subnet2 for a temporary project.

* Configure Server2 to accept VPN connections from the internet.

* Ensure that devices on Subnet2 obtain TCP/IP settings from DHCP on Server2.

End of Scenario:

What should you do to meet the DHCP connectivity requirement for Subnet2?
A . Install the Routing role service on Server2.
B . Install the IP address Management (IPAM) Server feature on Server2.
C . Install the Routing role service on Server1.
D . Install the DHCP Server server role on Server1.
Answer: D