RAG DROP

DRAG DROP

You are the Office 365 administrator for your company. The company is deploying Office 365 ProPlus.

The company has the following deployment requirements:

Office applications must be installed from a local network location by using a self-service model.

Office application updates must not be deployed until they have been tested for compatibility.

The installation of Office applications and updates must occur without user interaction.

You need to deploy Office 365 ProPlus.

Which three actions should you perform in sequence? To answer, move the appropriate actions from the list of actions to the answer area and arrange them in the correct order.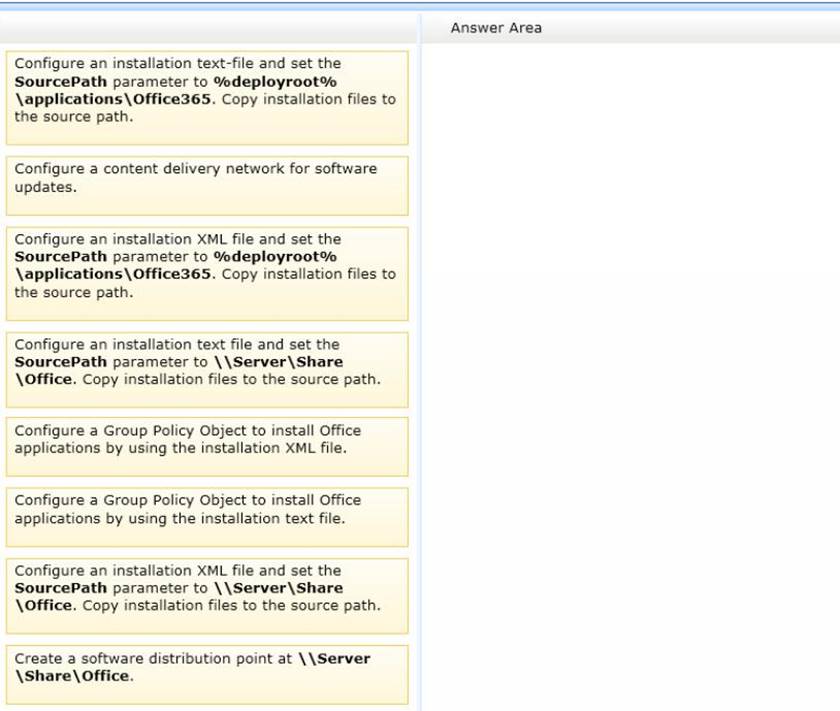 Answer: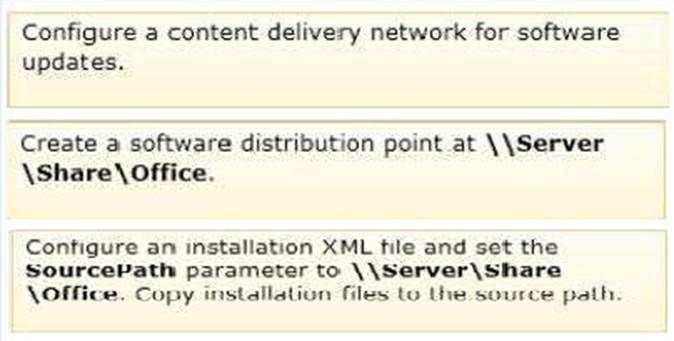 Explanation:

A new build ofOffice 365 ProPlus is released to the Microsoft Content Delivery Network (CDN) every 2nd Tuesday of every month. You would therefore need to configure a content delivery network.

You can configure Office 365 ProPlus to get updates automatically from a location on your network, i.e. distribution point, using the Office Deployment Tool or Group Policy. This is a good option if you want to test to make sure that your line-of-business applications work with the new version.

The Office Deployment Tool makes use of a Configuration.xml file, which includes the instructions for what Office software to download from Office 365.

References:

http://blogs.technet.com/b/office_resource_kit/archive/2014/01/28/managing-updates-for-office-365-proplus-part-2.aspx

https://technet.microsoft.com/en-us/library/cc179070.aspx#BKMK_RunSetupFromLIS

https://support.office.com/en-us/article/Content-delivery-networks-0140f704-6614-49bb-aa6c-89b75dcd7f1f?ui=en-US&rs=en-US&ad=US