In this section, you will see one or more sets of questions with the same scenario and problem. Each question presents a unique solution to the problem, and you must determine whether the solution meets the stated goals. Any of the solutions might solve the problem. It is also possible that none of the solutions solve the problem.

Once you answer a question in this section, you will NOT be able to return to it. As a result, these questions will not appear in the review screen.

Overview

General Overview

Contoso, Ltd. is a manufacturing company that has 500 employees. The company has sales, marketing, research, and accounting departments.

Contoso recently acquired another company named A. Datum Corporation, which has 100 users with mailboxes hosted on a third-party, non-Microsoft Exchange Server platform.

Physical Locations

Contoso has two offices. One office is located in New York and the other office is located in London.

The offices connect to each other by using a WAN link. Each office also connects directly to the Internet.

Existing Environment

Active Directory

The network contains an Active Directory forest named contoso.com. The forest contains a single domain. All domain controllers run Windows Server 2008 R2.

Each office contains five domain controllers. Each office is configured as an Active Directory site.

Office 365 Subscription

Contoso recently purchased an Office 365 subscription and began using Exchange Online, SharePoint Online, and Skype for Business Online.

All Office 365 identities are managed in the cloud.

Current Business Model

Users in the accounting department have access to Windows by using Remote Desktop Services (RDS). All client applications, including Office, are made available through Remote Desktop sessions.

Users in the marketing department frequently change their computer and must reinstall Office.

Users in the research department deal with highly sensitive patents; therefore, they do not have access to the Internet from their computer.

Problem Statements

Contoso identifies the following issues on the network:

Mobile Device Mailbox Policies

You have the following mobile device mailbox policies in Office 365.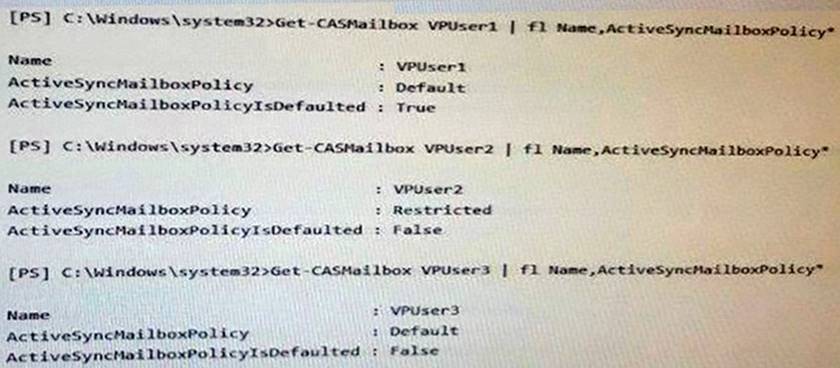 Requirements

Business goals

Contoso plans to upgrade to Office 2016 during the next six months.

As much as possible, Contoso plans to minimize the costs associated with purchasing hardware and software.

Planned Changes

Contoso plans to implement the following changes on the network:

Technical Requirements

Contoso identifies the following technical requirements:

* When a device connects from an untrusted network to https://outlook.office.com, ensure that users must type a verification code generated from a mobile app. * Ensure that all users can access office 365 services from a web browser by using either a UPN or their primary SMTP email address. * After Azure AD connect is deployed, change the UPN suffix if all the users in the Contoso sales department to fabrikam.com. * Ensure that administrator are notified when the health information of Exchange Online changes. * User Office 365 reports to review previous tasks performed in Office 365.

Note: This question is part of a series of questions that present the same scenario. Each question in the series contains a unique solution. Determine whether the solution meets the stated goals.

You need to modify the existing environment to meet the technical requirement for Outlook on the web.

Solution: You run the Set-CASMailbox command.

Does this meet the goal?

A. Yes

B. No
Answer: A

Explanation:

The Set-CASMailbox command can be used to disable Outlook Web App.

This example disables Outlook Web App for the mailbox of Yan Li.

Set-CASMailbox -Identity "Yan Li" -OWAEnabled $false

From scenario: The executive management at Contoso wants to prevent users from accessing their Exchange Online mailbox by using Outlook on the web.

Note: You can use the EAC or the Shell to enable or disable Outlook Web App for a user mailbox. When Outlook Web App is enabled, a user can use Outlook Web App to send and receive email. When Outlook Web App is disabled, the mailbox will continue to receive email messages, and a user can access it to send and receive email by using a MAPI client, such as Microsoft Outlook, or with a POP or IMAP email client, assuming that the mailbox is enabled to support access by those clients.

References:https://technet.microsoft.com/en-us/library/bb124124(v=exchg.150).aspx