DRAG DROP

Your company has an Office 365 subscription. A user has a desktop computer and has been assigned an E3 license. The user plans to travel to multiple branch offices and will use a shared desktop computer at each branch office. The user will not have administrative privileges on the branch office computers.

You need to ensure that the user has access to all features of Microsoft Word 2013 and Excel 2013 at the branch offices.

Which three actions should you perform in sequence? To answer, move the appropriate actions from the list of actions to the answer area and arrange them in the correct order.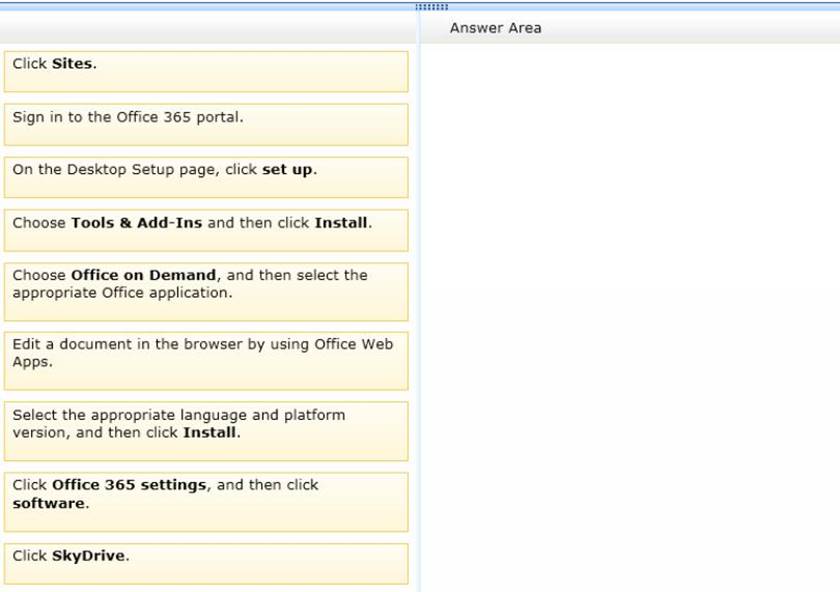 Answer: Box 1:

Box 2:

(Note: SkyDrive has now been renamed to OneDrive)

Box 3:

Explanation:

Office on Demand enables you to 'download' Office applications from Office 365 by using Microsoft's click-to-run technology. With an Office 365 subscription, you can log in to your Office 365 account from any computer with an Internet connection then select which Office application you want to use.

Office on Demand is described by Microsoft as an Office 365 feature that provides access to productivity apps such as Excel, Word and PowerPoint on a PC "that doesn't have the latest version of Office installed locally." The application gets streamed down to the local device via Microsoft's click-to-run technology. After the Office on Demand session is over, the application is wiped automatically from the machine. With Office on Demand, Office 365 subscribers can be assured of gaining access to Office apps on the go by just using an available, Internet-connected PC.

References: http://winsupersite.com/office-365/tip-use-office-demand