DRAG DROP

You are developing a Power BI report for a company.

The Power BI report must display company performance metrics in Power BI service. The report must include three fields in a visualization. The data for the report exists in a dataset.

The company will display the report on a large television screen during team meetings.

You need to create the report.

Which four actions should you perform in sequence? To answer, move the appropriate actions from the list of actions to the answer and arrange them in the correct order.
Answer: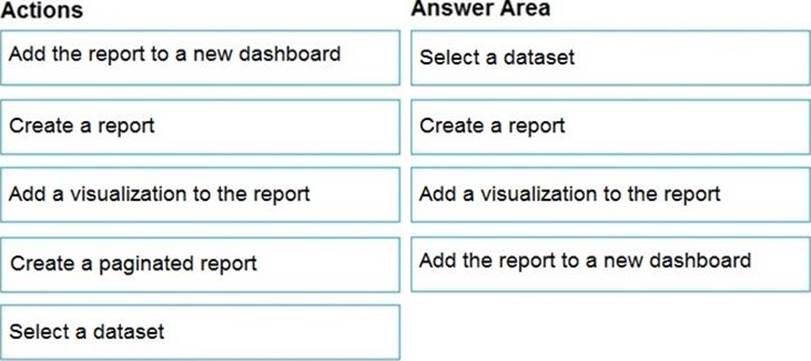 Explanation:

Graphical user interface, text, application, chat or text message

Description automatically generated

Box 1: Select a dataset

Sign in to your Power BI online account, or sign up, if you don't have an account yet.

Open the Power BI service.

Get some data and open it in report view.

Box 2: Create a report

Use that data to create visualizations and save it as a report.

Box 3: Add a visualization to the report

Box 4: Add the report to a new dashboard

Visualizations (known as visuals for short) display insights that have been discovered in the data. A Power BI report might have a single page with one visual or it might have pages full of visuals. In the Power BI service, visuals can be pinned from reports to dashboards.