HOTSPOT

Your company has a main office and a branch office. The two offices connect to each other by using a WAN link.

Your network contains an Active Directory forest named contoso.com. The forest contains a domain controller named DC1. All of the domain controllers are located in the main office.

You install a read-only domain controller (RODC) named RODC1 in the branch office.

You create a user account for a new user named User1. You add User1 to the Allowed RODC Password Replication Group. User1 starts work on Monday.

You are notified that the WAN link will be down for maintenance on Monday.

You need to ensure that User1 can log on in the branch office site on Monday.

Which command should you run? To answer, select the appropriate options in the answer area.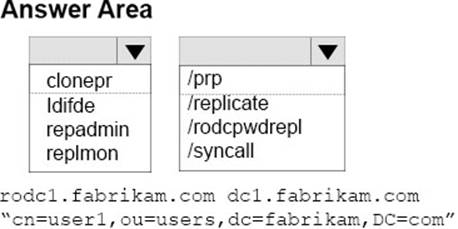 Answer: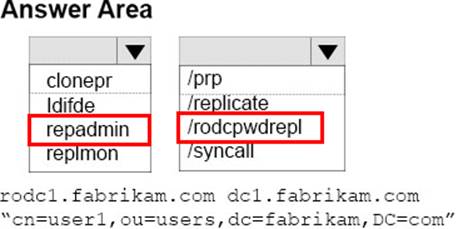 Explanation:

References:

https://technet.microsoft.com/en-us/library/cc742095(v=ws.11).aspx