HOTSPOT

You need to grant access to the business unit analysts.

What should you configure? To answer, select the appropriate options in the answer area. NOTE: Each correct selection is worth one point.

Answer:


Explanation:

Box 1: The Viewer role to the workspace

The Viewer role gives a read-only experience to its users. They can view dashboards, reports, or workbooks in the workspace, but can't browse the datasets or dataflows. Use the Viewer role wherever you would previously use a classic workspace set to "Members can only view Power BI content".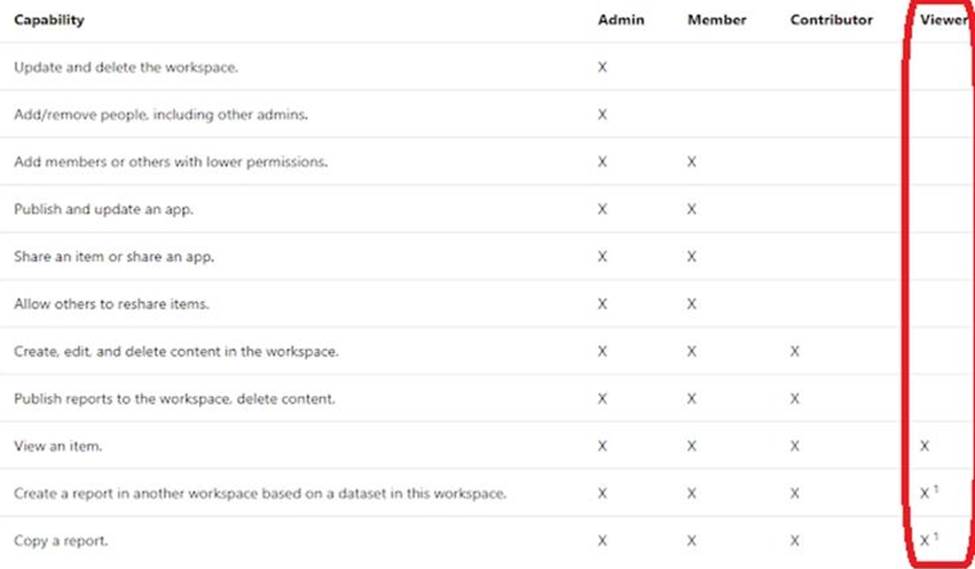 Box 2: Build

The analysts must be able to build new reports from the dataset that contains the profit and loss data.

Scenario: The reports must be made available to the board from powerbi.com.

The analysts responsible for each business unit must see all the data the board sees, except the profit and loss data, which must be restricted to only their business unit's data. The analysts must be able to build new reports from the dataset that contains the profit and loss data, but any reports that the analysts build must not be included in the quarterly reports for the board. The analysts must not be able to share the quarterly reports with anyone.

Reference: https://www.nickyvv.com/2019/08/the-new-power-bi-workspace-viewer-role-explained.html