HOTSPOT

Your network contains an on-premises Active Directory domain that is synced to Microsoft Azure Active Directory (Azure AD) as shown in the following exhibit.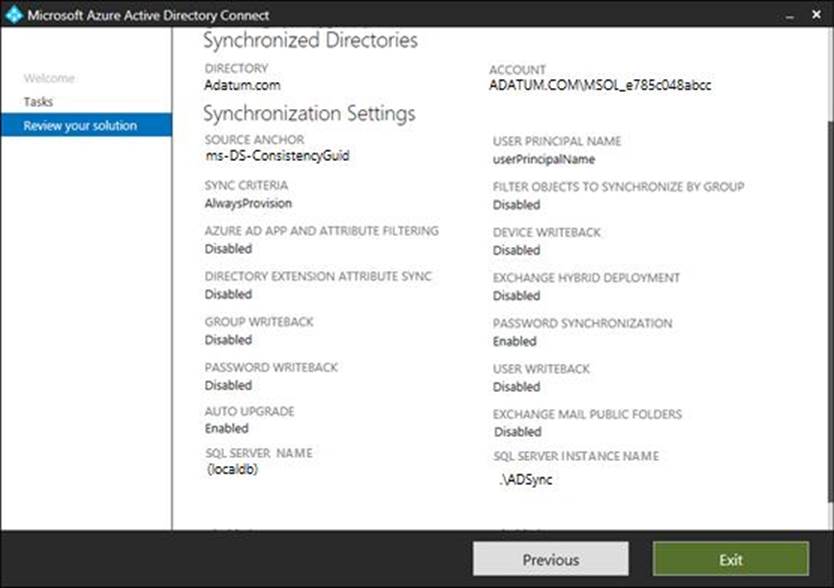 An on-premises Active Directory user account named Allan Yoo is synchronized to Azure AD. You view Allan's account from Microsoft 365 and notice that his username is set to [email protected]

For each of the following statements, select Yes if the statement is true. Otherwise, select No. NOTE: Each correct selection is worth one point.

Answer:


Explanation:

Allan Yoo's user account is synchronized from the on-premise Active Directory. This means that most user account settings have to be configured in the on-premise Active Directory.

In the exhibit, Password Writeback is disabled. Therefore, you cannot reset the password of Allan Yoo from the Azure portal.

You also cannot change Allan Yoo's job title in the Azure portal because his account is synchronized from the on-premise Active Directory.

One setting that you can configure for synchronized user accounts I the usage location. The usage location must be configured on a user account before you can assign licenses to the user.

Reference: https://docs.microsoft.com/en-us/azure/active-directory/authentication/concept-sspr-writeback