Topic 3, Litware inc
Case study

This is a case study. Case studies are not timed separately. You can use as much exam time as you would like to complete each case. However, there may be additional case studies and sections on this exam. You must manage your time to ensure that you are able to complete all questions included on this exam in the time provided.
To answer the questions included in a case study, you will need to reference information that is provided in the case study. Case studies might contain exhibits and other resources that provide more information about the scenario that is described in the case study. Each question is independent of the other questions in this case study.
At the end of this case study, a review screen will appear. This screen allows you to review your answers and to make changes before you move to the next section of the exam. After you begin a new section, you cannot return to this section.
To start the case study

To display the first question in this case study, click the Next button. Use the buttons in the left pane to explore the content of the case study before you answer the questions. Clicking these buttons displays information such as business requirements, existing environment, and problem statements. When you are ready to answer a question, click the Question button to return to the question.
Overview

General Overview

Litware, Inc. is a consulting company that has a main office in Montreal and a branch office in Seattle.

Litware collaborates with a third-party company named ADatum Corporation.
Environment

On-Premises Environment

The network of Litware contains an Active Directory domain named litware.com.

The domain contains three organizational units (OUs) named LitwareAdmins, Montreal Users, and Seattle Users and the users shown in the following table.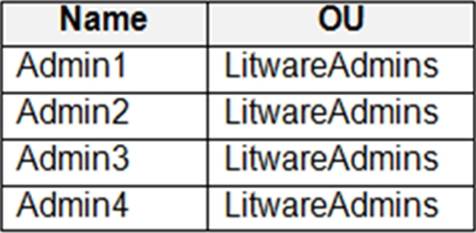 The domain contains 2,000 Windows 10 Pro devices and 100 servers that run Windows Server 2019.
Cloud environment

Litware has a pilot Microsoft 365 subscription that includes Microsoft Office 365 Enterprise E3 licenses and Azure Active Directory Premium Plan 2 licenses.

The subscription contains a verified DNS domain named litware.com.

Azure AD Connect is installed and has the following configurations:

✑ Password hash synchronization is enabled.

✑ Synchronization is enabled for the LitwareAdmins OU only.
Users are assigned the roles shown in the following table.

Self-service password reset (SSPR) is enabled.

The Azure Active Directory (Azure AD) tenant has Security defaults enabled.
Requirements

Planned Changes

Litware identifies the following issues:

✑ Admin1 cannot create conditional access policies.

✑ Admin4 receives an error when attempting to use SSPR.

✑ Users access new Office 365 service and feature updates before the updates are reviewed by Admin2.
Technical Requirements

Litware plans to implement the following changes:

✑ Implement Microsoft Intune.

✑ Implement Microsoft Teams.

✑ Implement Microsoft Defender for Office 365.

✑ Ensure that users can install Office 365 apps on their device.

✑ Convert all the Windows 10 Pro devices to Windows 10 Enterprise E5.

✑ Configure Azure AD Connect to sync the Montreal Users OU and the Seattle Users OU.
HOTSPOT

You need to ensure that Admin4 can use SSPR.

Which tool should you use, and which action should you perform? To answer, select the appropriate options in the answer area. NOTE: Each correct selection is worth one point.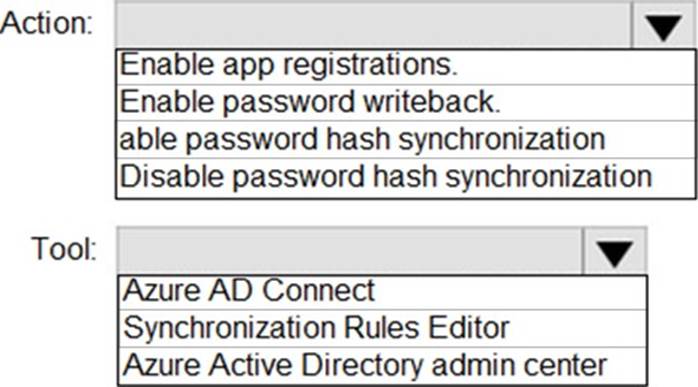 Answer: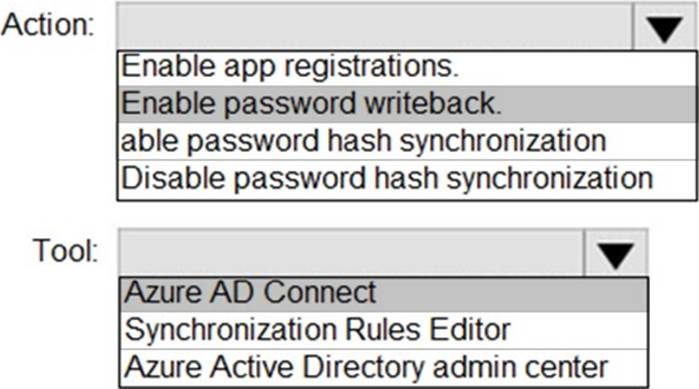 Explanation:

Reference: https://docs.microsoft.com/en-us/azure/active-directory/authentication/howto-sspr-deployment