HOTSPOT

You have an Azure Active Directory tenant named Contoso.com that includes following users:

Contoso.com includes following Windows 10 devices:

You create following security groups in Contoso.com:

For each of the following statements, select Yes if the statement is true. Otherwise, select No. NOTE: Each correct selection is worth one point.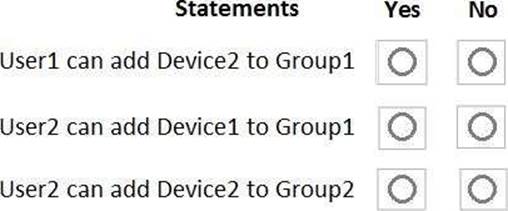 Answer: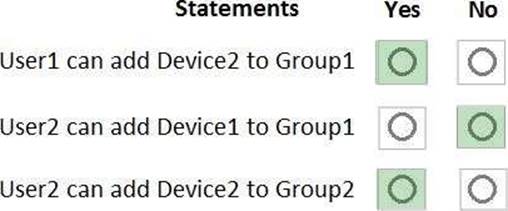 Explanation:

Box 1: Yes

User1 is a Cloud Device Administrator.

Device2 is Azure AD joined.

Group1 has the assigned to join type. User1 is the owner of Group1.

Note: Assigned groups – Manually add users or devices into a static group.

Azure AD joined or hybrid Azure AD joined devices utilize an organizational account in Azure AD

Box 2: No

User2 is a User Administrator.

Device1 is Azure AD registered.

Group1 has the assigned join type, and the owner is User1.

Note: Azure AD registered devices utilize an account managed by the end user, this account is either a Microsoft account or another locally managed credential.

Box 3: Yes

User2 is a User Administrator.

Device2 is Azure AD joined.

Group2 has the Dynamic Device join type, and the owner is User2.

References: https://docs.microsoft.com/en-us/azure/active-directory/devices/overview