HOTSPOT

You are designing an application that will store petabytes of medical imaging data

When the data is first created, the data will be accessed frequently during the first week. After one month, the data must be accessible within 30 seconds, but files will be accessed infrequently. After one year, the data will be accessed infrequently but must be accessible within five minutes.

You need to select a storage strategy for the data. The solution must minimize costs.

Which storage tier should you use for each time frame? To answer, select the appropriate options in the answer area. NOTE: Each correct selection is worth one point.
Answer: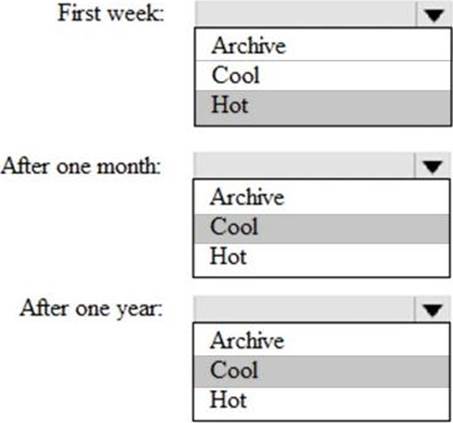 Explanation:

First week: Hot

Hot – Optimized for storing data that is accessed frequently.

After one month: Cool

Cool – Optimized for storing data that is infrequently accessed and stored for at least 30

days.

After one year: Cool