DRAG DROP

You have an on-premises file server named Server1 that runs Windows Server 2016. You have an Azure subscription that contains an Azure file share. You deploy an Azure File Sync Storage Sync Service, and you create a sync group. You need to synchronize files from Server1 to Azure.

Which three actions should you perform in sequence? To answer, move the appropriate actions from the

list of actions to the answer area and arrange them in the correct order.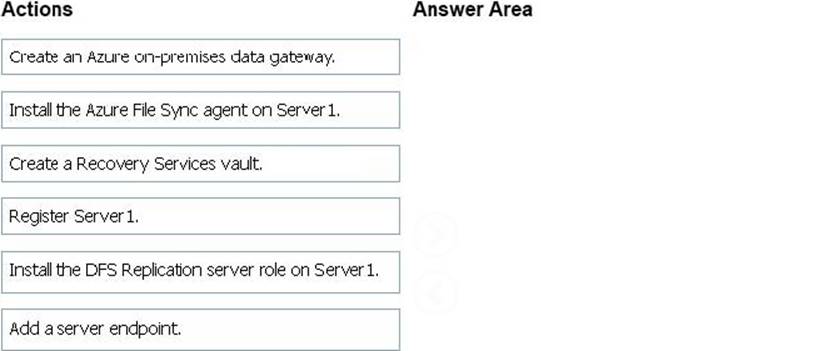 Answer: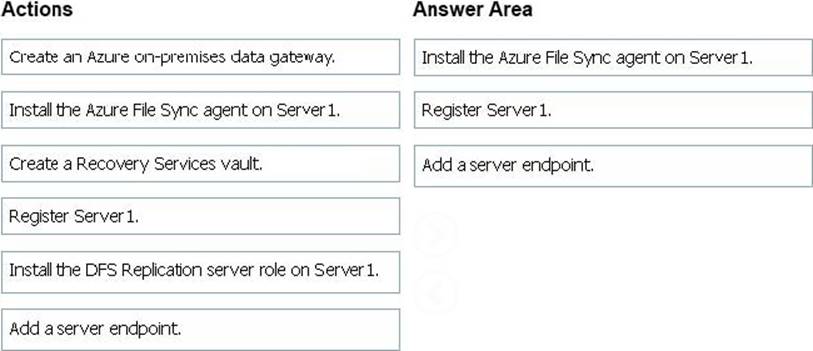 Explanation:

Step 1: Install the Azure File Sync agent on Server1

The Azure File Sync agent is a downloadable package that enables Windows Server to be synced with an Azure file share

Step 2: Register Server1.

Register Windows Server with Storage Sync Service

Registering your Windows Server with a Storage Sync Service establishes a trust relationship between your server (or cluster) and the Storage Sync Service.

Step 3: Add a server endpoint

Create a sync group and a cloud endpoint.

A sync group defines the sync topology for a set of files. Endpoints within a sync group are kept in sync with each other. A sync group must contain one cloud endpoint, which represents an Azure file share and one or more server endpoints. A server endpoint represents a path on registered server.

References: https://docs.microsoft.com/en-us/azure/storage/files/storage-sync-files-deployment-guide