Refer to the exhibit.

An engineer working for a private telecommunication company with an employee id 4115 46 881 is enabling a segment routing solution with these requirements.

✑ A service provider is using the default range for prefix SID.

✑ PE1 must allocate the first SID from the default range for the loopback address

✑ PE1 and PE2 loopback SID allocation should have a minimum difference of 500.

Which configuration must be implemented to meet the requirements?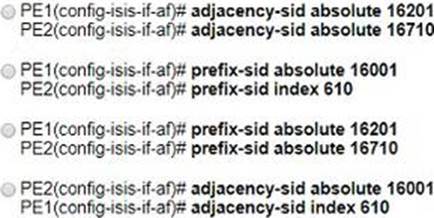 A . Option A
B. Option B
C. Option C
D. Option D
Answer: B