notifications, if any, that customer service needs to provide to the customer

– Items sold at a discount must show the original price, discount, and net amount on each line of the invoice. Invoices must be posted at the cash and carry desk at the time of sale. For orders, accounting must post invoices and send them to customers.

– Warehouse employees must be able to indicate what has been shipped on an order. They will use the G/L account for shipping charges. They need to use the correct G/L account for sales versus cost through proper assignment of sales and purchase accounts in the general posting setup.

– Some of the brokered customers require one invoice per week regardless of the number of orders or shipments.
Accounts

– Payment terms vary by customer.

– The amount paid to brokers must be calculated from sales after invoice discounts.

– Broker vendors must be easily identifiable from other vendors in lists

– Commission paid on sales not collected within 120 days must be deducted from brokers' next compensation payment.
Reporting

Wide World Importers requires reporting on the following:

– the overall profitability of each line of business at any time for any given period

– the cost of outbound shipping in the overall profitability of sales by business line in all related reports

– freight sales and cost by account in the trial balance

– the cost of brokers' compensation in reporting the overall profitability of sales by business line

– the effect of item discount promotions in financial statements.
Issues

Pricing

– Spreadsheets are used to maintain special item pricing and discounts. The only source of product line discount information is a whiteboard in the warehouse. The price charged is frequently incorrect.

– Customers complain when they think they think they have not received the best price available. Promotions are sometimes applied in error after a special pricing event ends, for example, when discounts are offered temporarily to reduce overstock.

Management cannot see original versus actual price on all sales. Discounts given by brokers requires spreadsheets and comparison between price list and price on sales invoice. Management needs to be able to quickly see the discount given on each sale.
Payment terms

– Agreed-upon payment terms are frequently entered incorrectly on orders, causing cashflow issues.

– Invoices already paid in full exist on the sales aging reports. The frequent cause of this issue is that sales from the cash and carry desk are not indicated as cash sales and are not posted as paid in full.

Some buying groups require that all invoices sent during a month be due on the 20 th of the following month.
Invoicing

– Paperwork is frequently misplaced between the warehouse, customer service, and accounting.

– Invoices that are posted in the accounting system based on shipments and invoices that are sent to customers weekly do not match due to errors transferring the data from one document to another.

– Users are selecting the incorrect freight type (expense versus sales) on purchase and sales transactions, making it difficult to reconcile freight costs.

– Sales placed from the cash and carry desk by customers originally acquired through a broker are not being recognized with the correct customer source. Reporting by business line is inaccurate.
Accounts

– Users often forget which fields to use to enter information when they add new customers to QuickBooks. This results in errors and inconsistencies in data and affects sales reporting. Confidence in sales reporting accuracy is low.

– Adding new brokers is a different process than adding other purchase vendors. Users often forget which fields to select and how to correctly assign the vendor number to add new brokers.

– Manual entries to certain G/L accounts cause reconciliation issues.
HOTSPOT

You need to report profitability by business line.

How should you configure the system? To answer, select the appropriate options in the answer area. NOTE: Each correct selection is worth one point.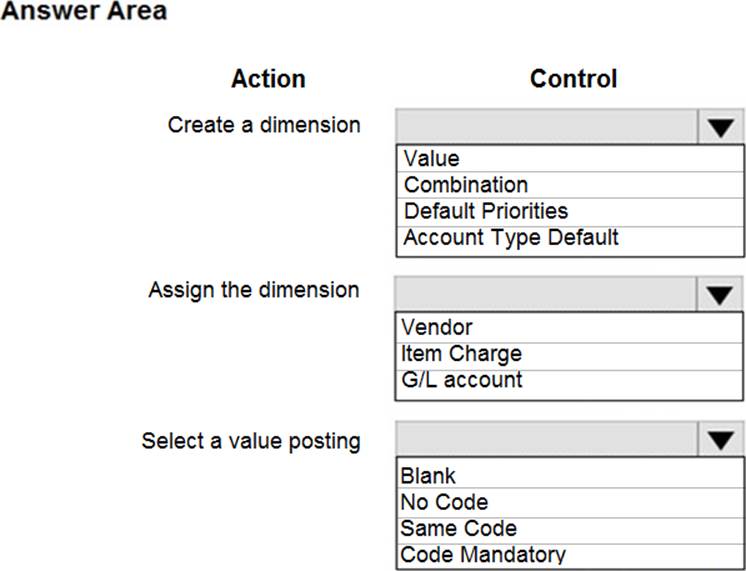 Answer: