HOTSPOT

You create a Microsoft 365 subscription.

You plan to deploy Microsoft Office 365 ProPlus applications to all the client computers at your company.

You prepare the following XML file for the planned deployment.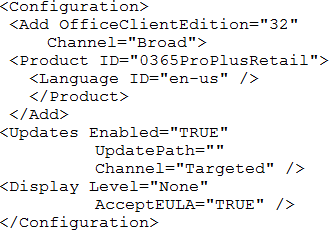 Use the drop-down menus to select the answer choice that completes each statement based on the information presented in the graphic. NOTE: Each correct selection is worth one point.
Answer: FEATURE update – once every 6 months (Jan and July)

SECURITY update – once a month

Explanation:

References:

https://docs.microsoft.com/en-us/deployoffice/configuration-options-for-the-office-2016-deployment-tool#updates-element

https://docs.microsoft.com/en-us/deployoffice/overview-of-update-channels-for-office-365-proplus