Topic 3, Case Study #3
Background

You are a developer for a Seattle-based company. The company is expanding globally. Many company employees speak fluent Mandarin and read Simplified Chinese.
You have six tabular data models that are deployed to two instances of Microsoft SQL Server Analysis Services (SSAS).
Users report that the query takes a long time to complete.
You are planning the disk space allocations for a new Microsoft SQL Server Analysis Services deployment. You plan to move several relational data file databases to the new SSAS instance. The databases require a total of 10 GB of disk space.
You also plan to deploy Cubes and Aggregations and use Object Processing. Cubes will have small fact tables and few dimension members. No unnecessary aggregations will be created. You plan to process an entire cube in a single transaction.
Data Models

One of the data models is named CustomerSales. This data model contains eight tables. The model includes a table named Sales that defines several measures, including a measure named PriorYearSales. The PriorYearSales measure is referenced by other measures, and is not intended to be analyzed directly by users. You must translate the metadata for all fata the CustomerSales data model to Simplifies Chinese. Team members from the Shanghai office assist with identifying appropriate translations.
A data model named OrderAnalysis is deployed to one of the SSAS instances. Order data is loaded into the OrderAnalysis data as part of an overnight process. You observe that the model is not up-to-date.
The business analysis team uses a variety of client applications to issue MDX queries against OrderAnalysis. Order data must be completely up-to-date.
The OrderAnalysis model has two user-defined hierarchies that are defined in a table named Order. New customers are only added once per day. The overnight process is sufficiently up-to-date for the Customer data to provide optimal performance while achieving the data currency goals whenever possible.
Databases

You deploy a database named DB1 to an SSAS instance as a project by using SQL Server Data Tools. Data analysts report that they cannot access near real time data from the SSAS SalesAnalysis model from DB1. You discover that the project has been deployed with the Direct Query Mode option set to OFF.
Most queries that use the SalesAnalysis data model use data from a table named FactInternetSales that is 20 gigabyte (GB) in size. Cached data must be available for the FactInternetSales table. All queries accessing the SalesAnalysis model must be executed in near real time.
DRAG DROP

A database named DB2 uses the InMemory query mode.

Users frequently run the following query:

You need to reconfigure the SSAS instance that hosts DB1.

Which three actions should perform in sequence? To answer, move the appropriate actions from the list of actions to the answer area and arrange them in the correct order.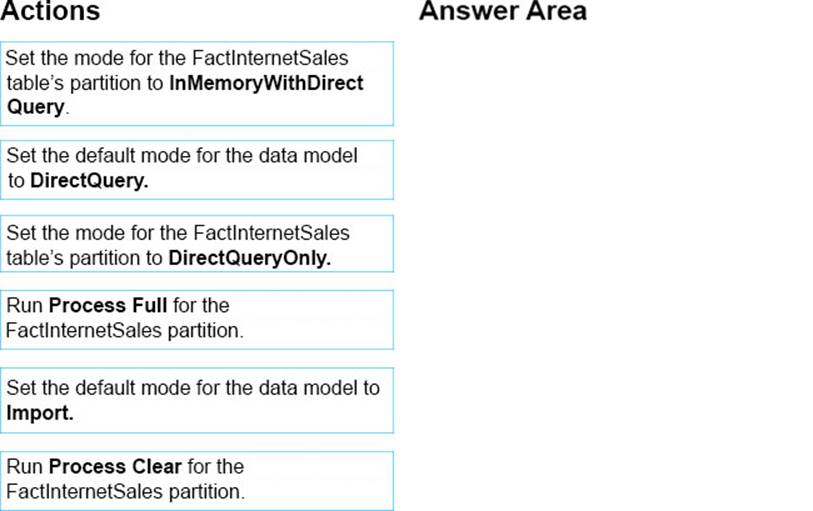 Answer: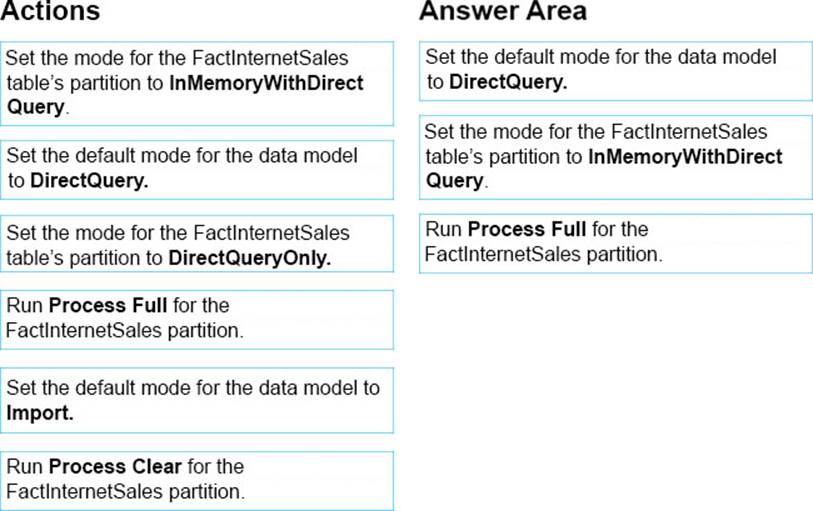 Explanation:

Step 1: Set the default mode for the data model to DirectQuery.

You discover that the project has been deployed with the Direct Query Mode option set to OFF.

Step 2: Set the mode for the FactInternetSales table's partition to DirectQueryOnly.

Initially, even DirectQuery models are always created in memory. The default query mode for the workspace database is also set toDirectQuery with In-Memory. This hybrid working mode lets you use the cache of imported data for improved performance during the model design process, while validating the model against DirectQuery requirements.

From Scenario: Most queries that use the SalesAnalysis data model use data from a table named FactInternetSales that is 20 gigabyte (GB) in size. Cached data must be available for the FactInternetSales table. All queries accessing the SalesAnalysis model must be executed in near real time.

Step 3: Run Process Full for the FactInternetSales partition.

When Process Full is executed against an object that has already been processed, Analysis Services drops all data in the object, and then processes the object. This kind of processing is required when a structural change has been made to an object, for example, when an attribute hierarchy is added, deleted, or renamed