DRAG DROP

You have a computer that runs Windows 10 Enterprise that contains the following folders:

You have a local user named User1. User1 has read and execute permission to Folder1.

You need to ensure that User1 can perform the following tasks:

– Create new files in Folder2.

– Edit all files in Folder3.

– Change the permissions of files in Folder5.

The solution must use the principle of least privilege.

Which permissions should you assign to User1 on each folder? To answer, drag the appropriate permissions to the correct folders. Each permission may be used once, more than once, or not at all. You may need to drag the split bar between panes or scroll to view content.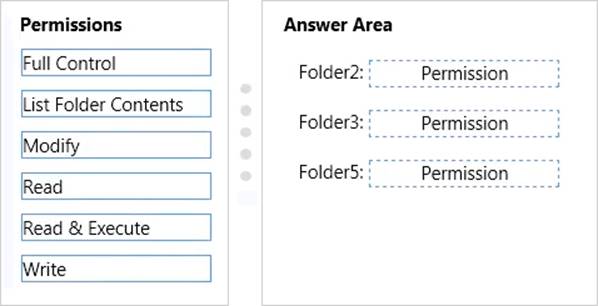 Answer: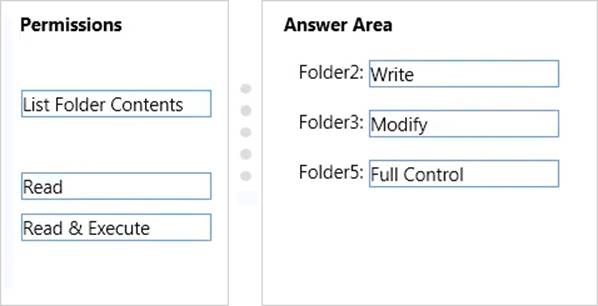 Explanation:

Advanced permissions are detailed permissions that are grouped together to create the standard permissions. The permissions in this question are standard permissions.

Folder2: To create new files in a folder, you need Write permission to the folder. The 'Write' standard permission includes the 'Create files / write data' advanced permission.

Folder3: To edit existing files in a folder, you need Modify permission.

Folder5: To change the permissions of files in a folder, you need the 'Change Permissions' advanced permission. The Change Permission advanced permission is in the 'Full Control' standard permission group. Therefore, the answer for Folder5 is Full Control.

References: http://windows.microsoft.com/en-gb/windows/before-applying-permissions-file-folder#1TC=windows-7