HOTSPOT

Users at Relecloud report slow performance when viewing reports from AzD801. You need to identify the cause of the performance issue as quickly as possible.

Which dynamic management view and performance monitor counter should you use? To answer,

select the appropriate options in the answers area. NOTE: Each correct selection is worth one point.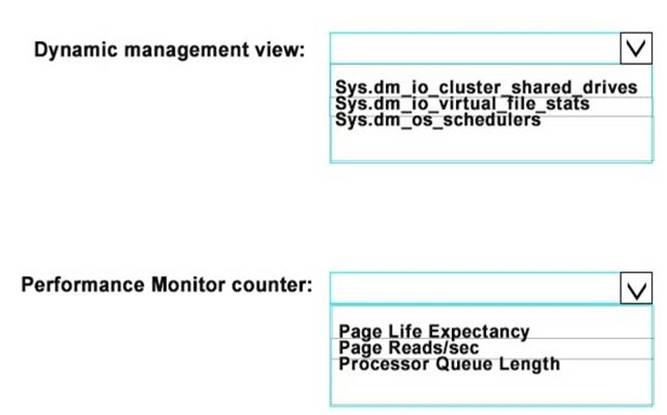 Answer: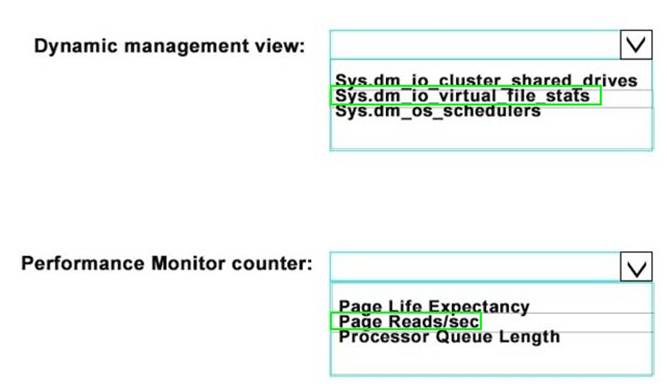 Explanation:

Box 1: Sys.dm_io_virtual_file_stats Sys.dm_io_virtual_file_stats returns I/O statistics for data and log files.

Box 2: Page reads/sec indicates the number of physical database page reads that are issued per second. This statistic displays the total number of physical page reads across all databases. Because physical I/O is expensive, you may be able to minimize the cost, either by using a larger data cache, intelligent indexes, and more efficient queries, or by changing the database design.

Reference:

https://docs.microsoft.com/en-us/sql/relational-databases/system-dynamic-management­views/sys-dm-io-virtual-file-stats-transact-sql?view=sql-server-2017

https://docs.microsoft.com/en-us/sql/relational-databases/performance-monitor/monitor-cpu­usage?view=sql-server-2017