You have the Azure virtual machines shown in the following table.

A DNS service is install on VM1.

You configure the DNS server settings for each virtual network as shown in the following exhibit.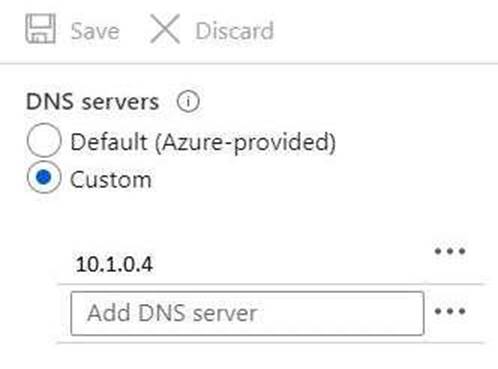 You need 10 ensure that all the virtual machines can resolve DNS names by using the DNS service on VM1.

What should you do?
A . Add service endpoints on VNET2 and VNET3.
B . Configure peering between VNE11, VNETT2, and VNET3.
C . Configure a conditional forwarder on VM1
D . Add service endpoints on VNET1.
Answer: B

Explanation:

An Azure AD DS DNS zone should only contain the zone and records for the managed domain itself.

A conditional forwarder is a configuration option in a DNS server that lets you define a DNS domain, such as contoso.com, to forward queries to. Instead of the local DNS server trying to resolve queries for records in that domain, DNS queries are forwarded to the configured DNS for that domain. This configuration makes sure that the correct DNS records are returned, as you don't create a local a DNS zone with duplicate records in the managed domain to reflect those resources.

To create a conditional forwarder in your managed domain, complete the following steps: