IMA CMA Strategic Financial Management CMA Part 2: Strategic Financial Management Exam Online Training
exams
IMA CMA Strategic Financial Management Online Training
The questions for CMA Strategic Financial Management were last updated at Dec 06,2023.
Exam Code: CMA Strategic Financial Management
Exam Name: CMA Part 2: Strategic Financial Management Exam
Certification Provider: IMA
Latest update: Dec 06,2023
Question #1
Javier makes hand-looted learner dog collars. The materials cost $10 per collar and the collars are sold for $50 each. Javier sells me collars at a local farmer's market mat charges S100 per month for space rental if Javier's income tax rate is 30%, how many collars must Javier sell each year to earn $1,000 net income?
A . 29
B . 53
C . 66
D . 263
Question #2
A foreign subsidiary of a U S company has an intercompany loan from the parent company.

Which one of the following statements about the subsidiary's functional currency is true?
A . It should be the U S dollar if the local currency is hyper inflated
B . It should be determined by the management of the U.S. Company
C . It is the US dollar because the parent company is in the US
D . It is the U S dollar because the subsidiary has an intercompany loan from the parent company
Question #3
A company had an operating cycle of 110 days, a cash cycle of 40 days, and an accounts receivable period of so days. The company s inventory period and accounts payable period are
A . inventory period = 50 days ana accounts payable period – 150 flays
B . inventory period = 70 flays and accounts payable period = 50 flays
C . inventory period = 10 days and accounts payable period = 50 days
D . inventory period = 50 days and accounts payable period = 70 days
Question #4
Below is the income statement and balance sheet for a retail corporation.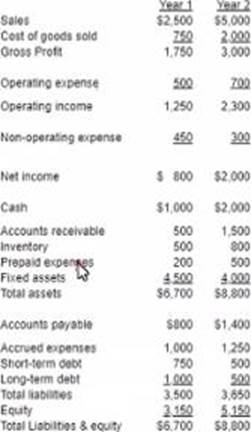 What is the corporation's debt to total capital in year 2?
A . 71%
B . 41%
C . 19%
D . 6%
Question #5
Genco Healthcare has asked ns controller to summarize the company's financial performance for the past two years. The accountant provided the following two years financial ratios for reference.
A . Less liquid mote profitable more solvent
B . Less liquid mote profitable less solvent
C . More Liquid Less profitable less solvent
D . More liquid, less profitable mote solvent
Question #6
Studler's Restaurant is considering a contract to supply the weal senior citizen center with 10,000 meals. Regular sales at regular prices would be unaffected. The food cost for each meal s S3 Additional costs incurred as a result of the contract would De variable overhead of S 50 and variable selling general and administrative costs of S SO per meal sold. The selling price per meal would be $5, A total of $20,000 in fixed costs would be allocated at $2 per meal. The fixed costs are part of an overall total of $500,000 in annual fixed costs incurred regardless of the contract.

What will be the effect on pretax income if Studiers takes the special order?
A . $10, 000 increase
B . $10.000 decrease
C . $20, 000 increase
D . $20.000 decrease
Question #7
Given the financial information shown below, what amounts would be shown for sales revenue and for gross prom, respectively in a common size income statement?
A . 100% and 20%
B . 100% and 45%
C . 222% and 225$
D . 100% and 55%
Question #8
All of the following describe ethical leaders except
A . dedicated leaders who can keep promises and commitment
B . flexible leaders how new ethical behavior to be negotiable
C . supportive leaders who encourage employees to adhere to company policy
D . leaders who demonstrate high ethical standards
Question #9
With respect to the COSO Enterprise Risk Management Integrated Framework (2017), which one of the following statements is true regarding Governance & Culture and Performance?
A . They are both components of the Integrated Framework
B . Governance & Culture is a principle and Performance is a component of the Integrated Framework
C . They are both principles of the Integrated Framework
D . Performance is a principle and Governance & Culture is a component of the Integrated Framework
Question #10
Risk maps are used in companies' enterprise risk management system because risk maps
A . provide a quantitative tool that measures the probability of occurrence and the potential impact to calculate a potential loses
B . rank risks.
Based on the potential loss that could occur it a risk were to materialize
C . are a generic set of risks for the company's industry that can then be used as a foundation for further risk-identification techniques to specify the risks relevant for the company.
D . compares the impact of a risk and the likelihood of occurrence to provide a qualitative assessment of the risk